Benefits Of Exfoliating

Exfoliation has three benefits - the first is it removes the layer of dead skin cell which makes your skin look cleaner, clearer and makes way for your creams, serums and moisturizer to penetrate.

Second - exfoliation stimulates cell regeneration. Encouraging your body to increase the speed of development of 'new fresh and shiny' skin cells - which means - your skin looks even smoother, clearer and glowing.

Lastly, it detoxifies while gently sloughing off accumulated wasted skin that can harbor or promote bacteria, inflammation, redness or blemishes. Exfoliation gives you lovely soft baby-like touchable skin.

What Can Pearl Powder Do For Me?

Pearl Powder instantly sheds off dead cells without peeling the skin. It brightens and evens the skin tone instantly. The specially selected pearls detoxify the skin for a clean, clear and lustrous look. It participates in the skin's renewal process and acts as a natural calming agent for irritated skin. While instantly enhancing the skin from the outside, unlike other exfoliators, it works to prevent and address the root cause for sustained benefits.

Pearl Powder gently polishes the skin and removes and clean obstacles that clog and enlarge pores. It will reduce fine lines and wrinkles, help fight acne and improve acne scarring, even skin tone, eliminate white and black heads, minimize large pores and revitalize dull skin. Exfoliating helps skin regeneration by increasing its elasticity and collagen production. Pearl Powder revives and renews your skin making it soft, smooth and natural. Cleans dirt, oil and makeup and kills bacteria for cleaner, younger looking skin.

Your skin will feel vibrant and healthy and you will notice an immediate difference in your softer, smoother skin.

Pearl Powder removes the dead skin that acts as a barrier to growth which preventing pores from expelling bacteria and keeps moisturizers and serums from penetrating the skin. Pearl leaves skin silky smooth, super-fresh, and with a radiant, pearlescent sheen.

Pearl Powder is the most gentle and effective exfoliate on the market today.

■Features:

■ Gently exfoliates and smooths skin
■ Deep cleans and protects
■ Removes harmful bacteria and detoxifies
■ Promotes healthy skin development
■ Reduces pore size
■ Polishes bacteria-laden pores


Note: Never exfoliate if you have open cuts or wounds or if your skin is sunburned.

You should avoid anything with "nut shells such as walnut or apricot kernels," as they have jagged edges that can lead to damage and irritation.


Basic Pearl Powder Exfoliate

Ingredients:

1 tsp Pearl Powder
Few drops warm water

Directions:

Mix to make a paste. Apply to face and neck and massage into skin in circular motions. let sit for 15-20 minutes. Wash off with warm water. Let air dry. Do this once or twice a week, and you can have a much younger looking face continuously.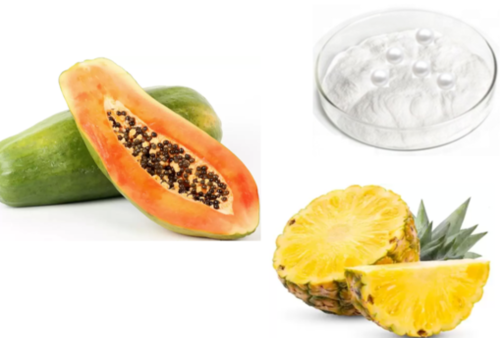 Pineapple and Papaya Facial Exfoliating Scrub

Ingredients:

1/4 cup fresh pineapple
/4 cup fresh papaya
2 tablespoons honey
1 tablespoon sweet almond oil
1 1/2 tsp Pearl Powder

Directions:

Mash fresh pineapple and fresh papaya together. Add honey, sweet almond oil, and pearl powder and mix well. Apply to your face and gently massage in circular motions outward for a few minuets. leave on for 10 minuets. Rinse with lukewarm water.


Pearl Powder & Your Favorite Essential Oil Scrub

Mix 1 tsp Pearl Powder with lavender essential oil and/or your favorite massage oil (olive, jojoba, grapeseed, almond, etc.) to make a paste. Scrub on your face in a circular motion, let sit for 15 minuets, rinse, wash as usual.


Think beyond just the face. The skin on the dé·colle·tage,
back, buttocks, legs, and arms also need exfoliation.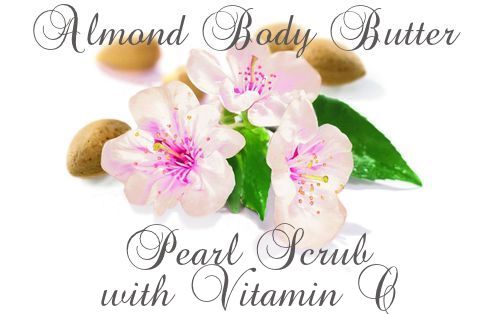 Almond Body Butter Pearl Scrub

Ingredients

1 tsp Pearl Powder
1/4 cup Sweet almond oil
2 Vitamin E capsules
1/8 cup shea butter or cocoa butter

Instructions:

1. Place Pearl Powder, almond oil and essential oil into a bowl.
2. Pierce the Vitamin E capsules and squeeze them into the bowl.
3. Add Shea Butter or Coconut Butter.
4. Mix well. If too runny, add little more Pearl Powder

Directions:

Step into the shower and rinse body so your skin is wet.

Put some of the scub on a washcloth. Starting at your neck, in a circular motion, work on exfoliating the skin. Be sure to massage body scrub into your arms, hands, legs, torso and buttocks. If you can reach your upper and lower back, do so, otherwise ask your partner to help you out.

Pay special attention to any super dry areas, such as the backs of your arms, your elbows and your buttocks.

Apply more scrub on washcloth when needed.

Once your body is completely exfoliated, rinse in warm water.

Apply moisturizer to cleansed, scrubbed skin.

Use this body scrub weekly to keep your skin in tip-top shape. It's important year-round to exfoliate both your face and your body.


| | |
| --- | --- |
| | |
Guava Leaves & Pearl Powder For Wrinkles
Worried about the wrinkles on your face? Well, you don't need to get any chemical or surgical treatments to get rid of it. An easy and natural remedy for this is pearl powder and guava leaves. This makes the Ideal scrub.

Pearl Powder, is the Mother, or Queen of all Beauty herbals. And Guava has managed to showcase its amazing health benefits, especially when it comes to skin treatment. The fruit is filled with nutrients like vitamins A and C, and minerals, namely copper, magnesium, and manganese. Guava has more Vitamins, Minerals And Potassium than oranges, or bananas. The leaves are a powerhouse of antioxidants like Vitamin C, and flavonoids such as quercetin.

Combining these two power antioxidants together boosts skin cell reproduction, thus diminishes wrinkles and aging skin.

Directions

Both Pearl Powder and Guava leaves contain antioxidants which destroy the free radicals that damage your skin, thus protecting your skin from aging as well as improving skin tone and texture.

Finely Mash guava leaves (I use a coffee grinder to a powder). Put 1 tsp powdered leaves into small bowl or cup. Add 1 tsp pearl powder and enough water to make a paste. Apply the mixture to your face and neck, and let sit for 15-20 minuets. Wash off with warm water, let air dry. Be careful not to get any into your eyes. Repeat twice a week.

So, bid adieu to fine lines and wrinkles and say hello to a firm, supple glow.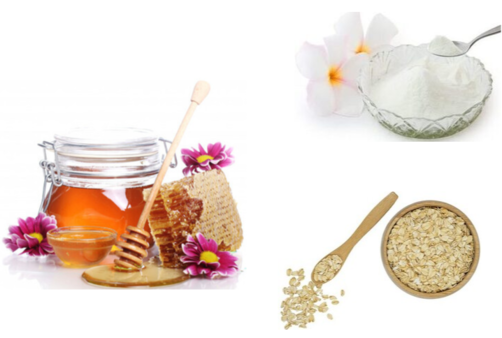 Oatmeal, Pearl Powder and Honey Scrub

Ingredients:

2 tbsp finely ground oatmeal
1 tsp Pearl Powder
1 tbsp honey
1 tbsp warm water

Directions:

In a small bowl, mix oatmeal, pearl powder and honey.

Add warm water and mix thoroughly to a paste like consistency.

Apply scrub to entire face with fingertips and massage for one minute, then let sit for 10 minutes.

Rinse off with warm water.


Pearl Powder, Shea Butter, Olive Oil Exfoliate

Ingredients:

1 tsp Pearl Powder
1/2 cup of cold-pressed shea butter
1/3 cup Olive oil
1/2 cup Rosehip seed powder
5 drops of Vitamin E oil
Few drops of essential oils for fragrance (optional)

Directions:

Lightly melt shea butter in a round bowl and whip into a creamy consistency. You can use a fork or whisk to do this. Add Pearl Powder, vitamin C and olive oils and mix well until mixture is well blended. Stir in drops of essential oils then transfer into a Mason jar and cover.

To use, massage mixture on to skin with hands, using gentle circular motions while ensuring you cover the whole face and/or body. Rinse off thoroughly with warm water.

After you exfoliate your skin will glow, feel silky soft, and look radiantly healthy.

The results will give you a bright, luminous tone, even texture, and a plump and youthful appearance. Years will be removed from your face and your make up will go on smooth, if you need make up at all!

Pearl Powder is good for all skin types and works to normalize skin by allowing skin to detoxify, removing dead skin and by removing this unwanted lining it lifts the weight on the facial skin (this weight on the face causes skin to sag and droop which in turn causes excess wrinkles).

Always remember, consistency is the Key. If you don't exfoliate regularly, once a week, you cannot expect for it to work properly for you.


Collection Of Spa Treatment Recipes
Seawater
Pearl Powder


Freshwater
Pearl Powder