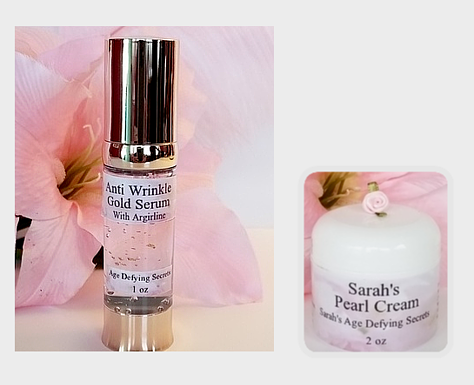 An Astounding Way To Soften and Tighten
Skin While Removing Wrinkles


This unique method of removing wrinkles will utterly astound you. Anti Wrinkle 55 Gold and Sarah's Pearl Crème creates a remarkable barrier for wrinkles. It Softens, retores elastin, heals, promotes growth of new cells and supplies nutrients to skin. An Astonishing skin care treatment that will create for you a flawless complexion.




The Ultimate skin firming serum, Anti Wrinkle 55 Gold Serum, often described as a magic potion, enhances and accentuates all other facial creams and serums. You will not believe what your skin will feel and look like after just one application. World's No 1 Anti Aging Serum.

Review This Product
Sarah's Pearl Crème is the ultimate wrinkle softer and skin replenisher. You will feel like the Empress herself when you wake up in the morning after indulging in sleep with this rich, lush, fluffy, weightless, vitamin enriched cream absorbed into your skin. It's La Crème de la Crème, causing your skin to be soft as silk, lubricous and smooth. You'll arise and wash it off, apply anti wrinkle 55 Gold, then your favorite moisturizing Cream and it will be your secret for returning to the fountain of youth.

Review This Product








And Get 2 FREE Ebooks








Home Site Map Articles Products Contact