Pearl Mineral Finishing - Setting Powder



Say goodbye to overpriced "luxury" setting powders and say hello to REAL, SUPREME luxury that your skin deserves.

Finishing powder is a super fine translucent powder, and should be used as the final step in your makeup routine to provide and airbrushed finish. It sets your foundation for all day wear while concealing pores, blurs fine lines, and smooths wrinkles.

Pearl powder is considered a "mineral makeup" because of its high mineral and amino acids content. Using Pearl Powder is an innovative way to give skin a marvelously radiant glow with a slight dewey looking finish. The wonderful news about Pearl Powder is you can use it as a finishing or setting powder. - This is your holy grail.

If you want to lock your makeup in place, absorb excess oil, minimize the appearance of pores and wrinkles, and create an airbrushed look, Pearl mineral powder is for you. Skin instantly looks fresher, more radiant, and smoother throughout the day.

Ideal for all occasions and also perfect for everyday wear. This Powder is a weightless miracle that will give your complexion a lasting soft, subtle glow finish, all the while absorbing an abundance of vitamins, antioxidants, collagen, and minerals into your skin cells.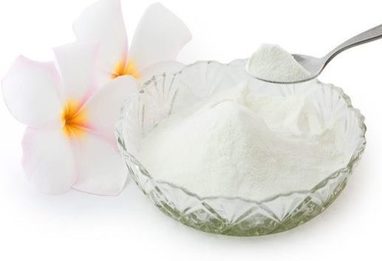 Pearl Powder contains no additives, toxic chemicals, or additives - it's all natural.

Perfectly set your makeup with Pearl powder:

1. Apply foundation and wait until it is fully dry, for best results.

2. Put a tiny bit of Pearl powder into a small bowl or cup.

3. Dip a large makeup brush with a long handle into the powder and twirl your brush so all of it goes on the brush.

4. Tap the handle against the top lip of the container to get rid of the excess. (you can also use a sponge to apply the powder using the same method).

5. Gently, and lightly dust your face, concentrating on the under eye and T-Zone area.

6. Wipe off excess with brush.

7. Press it into your skin while your foundation is still wet with a flat-shaped brush or powder puff. Blend well to avoid a dry, cakey appearance.

8. After the finishing powder, apply your blush, bronzer, highlighter and eye makeup.

Apply it at night to soothe skin while sleeping, and to absorb excess oil.

Suitable for all skin types and complexions.