Pearl Powder is used in spas, clinics, and doctor's offices around the world to treat a multitude of health and skin conditions. Pearl has a magic effect on the skin and body, however not all pearl powder has this magical effect. Our Pearl Powder is the finest, most superior quality of its kind. It is Premium, Grade A, Pure, for utimate anti-aging performance.

Pearl Powder stimulates the production of collagen and elastin, and accelerates the repair of damaged skin cells and cellular metabolism. You will visibly see a dramatic reduction and improvement in the appearance of fine lines, wrinkles, crow's-feet and age spots on face, chest, neck and hands. Pearl absorbs deep into the skin and tissue repairing, regenerating, and stimulating collagen and elastin synthesis.


Pearl Powder facial treatment is non-abrasive, non-invasive, painless, with absolutely no downtime. It is safe for all skin type and all ages. Used on a regular basis, your collagen and elastin production will be kept at a high level, leading to much healthier skin and less wrinkles and blemishes.

Pearl helps renew, refresh, and diminish lines and wrinkles, and treats acne, rosacea and eczema. It's simple for you to experience the miraculous effects of this skin transforming treatment.

It is easy to do this efficacious anti-aging treatment and get a spa quality facial at home at a fraction of the cost. If your desire is to stay young and look young - if you want soft, ageless skin with a luminous sheen, Pearl Powder is the secret for a new, beautiful you.

What Can A Pearl Powder Mask Do For Me?

Pearl Powder gently polishes the skin and removes and clean obstacles that clog enlarge pores. It renews, refreshes, and diminishes lines and wrinkles, treats acne, rosacea and eczema. It fades acne scaring, lightens and evens out skin tone, eliminates white heads and black heads, reduces large pores and revitalize dull skin. You will visibly see a dramatic reduction and improvement in the appearance of fine lines, wrinkles, crow's-feet, dark spots and age spots. It's simple for you to experience the miraculous effects of this skin transforming treatment.

A Quality Facial stimulates the production of collagen and elastin, and accelerates the repair of damaged skin cells and cellular metabolism. Pearl Powder revives and renews your skin making it soft, smooth and natural. It cleans dirt, oil and makeup and kills bacteria for cleaner, younger looking skin.

Your skin will feel vibrant and healthy and you will notice an immediate difference in your softer, smoother, lusterous skin. Pearl Powder is the most profound treatment for removing dead skin.

Failing to exfoliate, dead skin blocks new skin growth, prevents pores from expelling bacteria, and obstructs skin care products from absorbing into the skin. Pearl Powder is the most gentle and effective exfoliate on the market today. 100% Natural - 100% Safe.

■Features:

■ Gently exfoliates and smooths skin
■ Deep cleans and protects
■ Stimulates the production of collagen and elastin
■ Removes harmful bacteria and detoxifies
■ Accelerates the repair of damaged skin cells and cellular metabolism
■ Promotes healthy skin development
■ Revitalize dull skin
■ Reduces pore size
■ Polishes bacteria-laden pores

After your facial mask treatment you will find that your skin feels soft and as smooth as silk. Years will feel removed from your face and your makeup will go on smooth!

Pearl Powder is good for all skin types and works to normalize skin as it should be by allowing skin to detoxify, remove old and dead skin and by removing this unwanted lining it lifts the weight on the facial skin (this weight on the face causes skin to sag and jawls to droop which in turn causes excess wrinkles).

Always remember. Consistancy is the Key. If you don't use it regurlarly, at least 1 to 2 times a week, you cannot expect for it to work effectively for you.

Say good by to that dry, sandpaper-like skin and say hello to your new best friend.

Basic Recipe: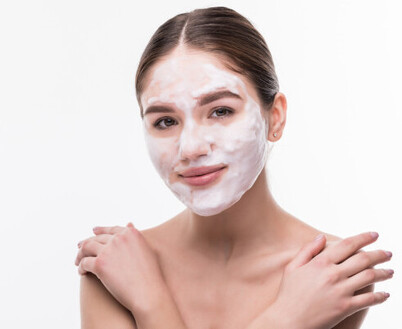 Ingredients

1/4 tsp pearl powder (a little more if needed
Few drops warm water

Mix to make a paste. Apply to face and neck. Leave on for 15 minuets, wash off with with warm water. Let air dry. Do this once or twice a week, and you can have a much younger looking face continuously.

• Pearl Powder Egg Mask

Pearl Powder is a great anti-inflammatory agent, which helps to relax and calm the skin. Egg white is composed of 83% water and 40 different types of protein.

1-2 teaspoon pearl powder
1 tsp egg white

Egg whites have astringent properties that help shrink pores by tightening the skin. Before applying, first wash your face gently with warm water and pat dry with a soft towel. Mix 1 teaspoon of egg white and 1/4 tsp pearl powder, and wisk well. Coat your face with a thin layer and let it dry for 10-15 minuets. Avoid the areas around your nose, mouth, and eyes. Gently wash off with tepid water. Let air dry.

You can add 1 tsp raw honey to egg mixture to nourish and moisturize aging skin.

If you don't want to waste the remainder of egg white add 1/4 tsp pearl powder, mix and slather it all over your hair. Cover your hair with a shower cap to prevent drips and sit back for 10 minutes. When the time is up, rinse off thoroughly and let your hair dry naturally. Your hair will look shiny when dry which is one of the magical properties of egg white and pearl powder combined!

• Pearl & Green Tea Facial

1 Tbsp Pearl Powder
Few Drops Green Tea

Mix to make a paste, then apply to dry, clean face. Leave on for 15 minuets. Rinse off with warm water. Let air dry.

• Milk and Pearl Powder

This facial is for Dark Spots, Freckles, Pigmentations, Melasma, etc. Promote cell renewal and regulate skin discoloration. Hydrates the skin and exfoliates.

Mix 1/2 tsp Pearl Powder in small bowl, then add a small amount of milk to make paste. If you prefer a thicker mask, add some honey. Next, wash your face with warm water and apply mixture to face and neck. The places with pigmentations, dark spots, freckles, melasma etc, apply a little more and massage into those spots with your fingers. Wash the mask off after 15-20 minutes with warm water.

Use this method once or twice a week, but for dark spots, age spots, pigmentations, melasma etc., apply on spots every night before you retire.

• Banana Facial Mask

1/2 very ripe banana
2 tsp butter
1/8 tsp pearl powder
2 tsp green tea

Use back of a spoon and mash banana. Add butter, pearl powder and green tea and mix together. Apply the mixture on your face and leave for 15-20 minutes. Wash off with warm water.

• Natural Facial Mask Recipe

1 egg white
Pure aloe vera juice
2 tsp olive oil
1 tsp pure apple juice
1 tsp pure Pearl Powder

Add egg white and comparable amount of fresh pure aloe vera juice, olive oil, apple juice and Pearl Powder in bowl and mix. Dip both hands into your facial mask and apply to skin.

• Mix 1 tsp pearl powder and extra virgin olive oil to make a paste. This revitalizes dry, dull skin.

• Mix 1 tsp pearl powder with whole milk or cream to make a paste. This is will reduce large skin pores and remove acne. The skin may feel irritated or warm for a few minutes after removing the mask, so let your skin breathe for as long as possible before apply a moisturizer.

If you use pearl powder once or twice a week, you will see a beautiful change in your skin in a very short time.

• If you spend time in the sun, mix 1 tsp pearl powder in an atomizer containing freshly brewed and strained green tea. Add a drop or two of witch hazel extract and keep the liquid in the refrigerator to preserve its freshness. This spray helps prevent sun damage because of the green tea's high antioxidant content.

• Now it is time to relax. Go ahead, lay down on your back with your face up. Cover your eyes with cucumber or wet cotton balls. Wait 15 minutes to 1/2 hour. Make sure the mask is entirely dry. Once the mask is dry, cup both hands to hold warm water, spread the water evenly over your face. Then gently massage your face. Repeat this several times. Let the air dry your face. Do not use a towel.

• Pearl Powder and Aloe Juice Mask

This mask will enhance the skins elasticity and smooth skin texture. It's difficult to find a better natural moisturizer.

Ingredients
1 tsp pearl powder
1/4 tsp aloe juice

Mix pearl powder and aloe juice in a cup. Apply mixture on your face and neck. When the mask is dry, apply a second layer. Wash off after 15-20 minutes with warm water. Aloe juice prevents sun damage and improves collagen, the skin's support structure.

• Pearl Powder, White Tea and Aloe Mask

This mask is remarkable for skin whiting and radiation protection.

1/2 tsp pearl powder
2 tsp aloe
white tea

Mix pearl powder, aloe, and enough white tea to make a paste in a cup. Apply mixture on your face and neck. Leave on for 15 minutes, wash off with warm water. Aloe prevents sun damage and improves collagen, White tea prevents wrinkles and improves skin elasticity. Pearl Powder is abundant in collagen, antioxidents, protein, and amino acids.

NOTE:

Apply a good super-hydrating moisturizing cream when finished. I suggest Sarah's Luxury Pearl Crème - it's absolutely divine or Supreme Peptide Cream Quadruple-Action Formula.

Once you experience this Posh, Luxury Pearl Powder Facial, your skin will never be the same again.

More Pearl Powder Recipes Here